Germicidal Lamps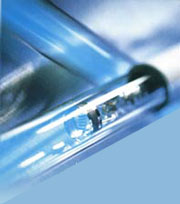 Germicidal Lamps are low pressure mercury vapor lamps which produce ultraviolet rays that are lethal to micro organisms. Radiations are generated by an electrical discharge through low pressure inert gases and mercury vapor within the special quartz tube of the lamp. Approximately 95% of the UV rays from the lamp are at the wave length of 2537A,(commonly referred to as 254nm) which is the region of maximum bactericidal effectiveness. Enviro process Engineering (HK) Co.Ltd. Germicidal lamps are available in non-ozone and very high ozone for your choice.
The feasibility study on using ozone for the disinfection of CEPT effluent from Stonecutters Island STW

Applications Germicidal lamps are utilized in many applications including:
Advanced Oxidation Process (AOP)
Advanced Oxidation Processes are use to remove refractory organic compounds from air or water where UV light, hydrogen peroxide, ozone or titanium dioxide alone would not work.

The AOP systems use the synergistic effect of UV light, hydrogen peroxide (H2O2) and/or ozone (O3) or titanium dioxide (TiO2) to produce hydroxyl radicals (OH), which destroy these refractory organic contaminants in air or water.

The Advanced Oxidation Processes destroy a broad range of organics compounds. The process creates no harmful emissions, by-products or secondary streams and works collectively with all other system components.
As a result of modern manufacturing methods, equipment design and technological advances, we are positioned as one of the world's largest manufacturers of UV equipment for disinfection, ozone destruction and TOC reduction. Our commitment to product quality and customer service sets us apart.
Semiconductor


The semiconductor industry is one of the largest consumers of ultra-pure water. Many of the world's largest semiconductor manufacturers rely on our systems for their ultra-pure requirements

Residential, Commercial and Industrial
•Water Purification
•Wastewater Treatment
•Aqua cultural Water Treatment -UV light will destroy most fish pathogens. UV systems are available for both fresh water and saltwater applications.

Air Purification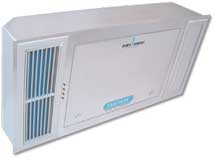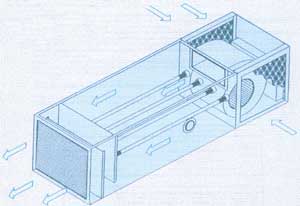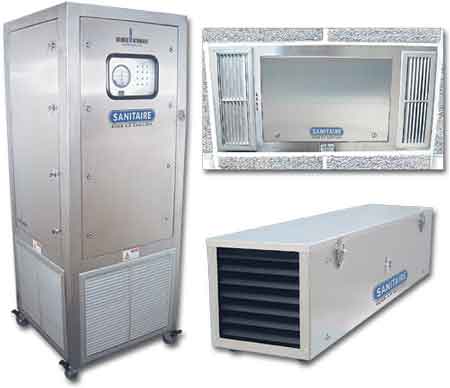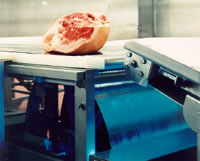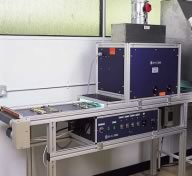 Case Studies : UV conveyor for Food Disinfections
Taste is the most precious element of F&B. UV light can disinfect process water without a fear of producing any odious smell or taste. Our systems are suitable for F&B production areas where sanitation is of the utmost importance.
UV disinfection will kill micro-organisms on food surfaces such as egg shells, hard cheese, fruit and vegetables. The process is simple, reliable and economical. It is a proven technology which provides enhanced hygiene, higher quality and extended shelf life. Subject to rules and regulations of particular countries
Single and multiple UV lamp units can be constructed over a conveyor system

UV light intensity and emission spectrum can be specified.

Reflectors designed for flood or focused illumination area.

Shuttered or uncluttered systems.

Fan cooling.

Elapsed hour counter for UV lamp change scheduling.

Models for bench top or production line operation.

Access ports for UV light meter sensor
UV Tank Disinfection is designed for use with liquid storage tanks as shown in the drawing to the right. The electrical enclosure should be protected from moisture and the quartz sleeve assembly is not recommended to be used in a submerged application over 5 psi. Attachment to existing liquid storage tanks to provide sanitary storage and disinfection for air and liquid contents.
Lamps and quartz sleeve should be periodically cleaned to maintain high transmission of ultraviolet rays. Stubborn stains that cannot be removed with alcohol or a detergent usually can be removed with a dilute hydrochloric acid. Lamps have a rated effective life of 9,000 ~10,000 hours.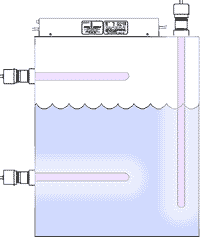 | | | | | |
| --- | --- | --- | --- | --- |
| Model | Length | No. of Lamps | Ultraviolet Output (7) | Power Consumption |
| TD13 | 10" | 1 | 2.4 Watts | 10 Watts |
| TD16 | 13" | 1 | 3.7 Watts | 14 Watts |
| TD22 | 18-7/8" | 1 | 6.5 Watts | 20 Watts |
| TD36 | 32-7/8" | 1 | 12.5 Watts | 36 Watts |
| TD64-2 | 62" | 2 | | |
Cooling Water
The utilization of UV technology in cooling water systems can control microbial growth within the water re-circulation process and significantly reduce the chemicals required to maintain these systems. This results in more efficient operations of these cooling systems and heat exchangers.

Reuse
UV systems have a long history of being utilized in industry for the disinfection of reuse water. The water is reused after disinfection. Our UV systems can be employed to disinfect reuse water for bottle washes, vegetable, fruit, meat and poultry wash water streams.

Ink Curing Applications
Ozone Besides producing 2537 Angstrom unit wave lengths of ultraviolet, some germicidal lamps are designed to produce controlled amounts of a shorter wave length of ultraviolet measured at 1850 Angstrom units (commonly referred to as 185nm). This wave length has the power of generating ozone which is a form of oxygen and is an extremely effective germicidal agent. Ozone also has the power of oxidizing odor molecules and therefore acts as a deodorizer. A further advantage is that ozone can be carried by air into places that the UV rays cannot reach directly.
Ozone producing lamps are commonly used for pool and spa water treatment, T.O.C. reduction and air purification.
Below is a list of the most standard germicidal lamps offered by Enviro Process Engineering. Please note that lamp offerings are not limited to this list.
<![if !vml]>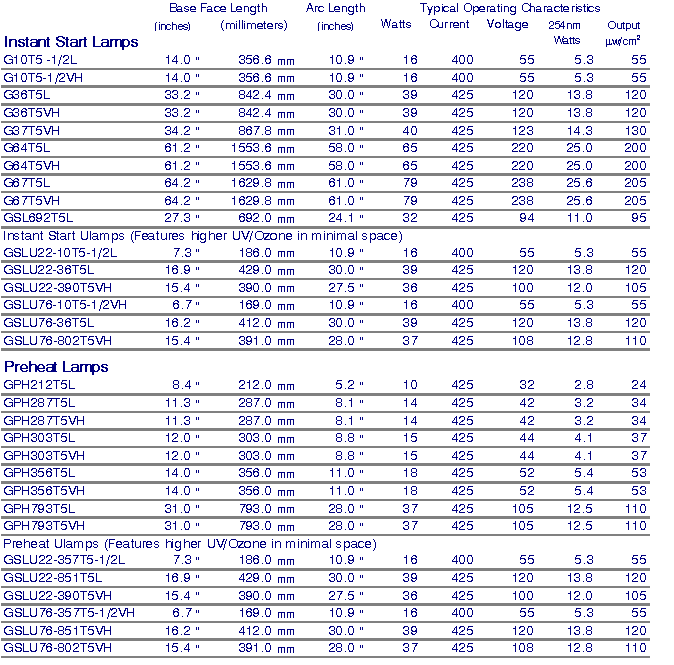 <![endif]>
Other UV products :

UV Sensor
H2O-254UV system (USA), it consists of 3 components:
q UV Sensor for 253.7nm wavelength,
q 6ft standard cable (optional to 20 ft or 30ft) ,
q IP65 connector,
q UV display controller.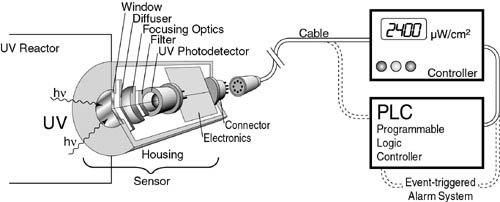 H20-254 UV Sensor System
Sensor:

All sensor components are hermetically sealed in a stainless steel housing. The assembly of the unit is done under dry nitrogen gas to eliminate the presence of oxygen and water. The Sensor in NIST-traceable calibrated and come with a Certificate of Calibration.

Controller:

The Controller has been designed to operate in industrial environments and includes a Temperature Alarm Setting System that can be defined by the end-user or completely disabled. The Controller has many reporting units, which are user-defined preferences such as temperature in oC or oF. The Controller is capable of continuously displaying the level of Irradiance detected in irradiance units (μW/cm2) or in percentage value(%).

<![if !vml]><![endif]>
Cable: The cable connects to the Sensor with a IP-65 connector.
Specifications of Sensor
UV Detector

Custom thermally-stabilized photodiode

Calibration Wavelength

254 nm

Temperature Detector

Semiconductor IC chip

Operating Conditions

0 - 80°C (32 - 176°F), withstanding temperatures in excess
121 °C (250°F), 250psi maximum pressure

Sensor Housing

Stainless steel with axial connector and Viton® o-rings

Wetted Surface

Stainless steel, Viton® o-rings and sapphire window
Controller and display board
Display

4.5 - digit LCD display with 0.5" digit high

Display Irradiance Range

0 to 5,000 µW/cm2

Resolution

1 µW/cm2

Display Percentage Range

0-100.0% (fixed position switch for % or Irradiance alternative)

Resolution

0.1%

100% Adjustment Range

10-5000 µW/cm2 (multi-turn potentiometer with 0.1% resolution)

Input Power

230 V/ 50 Hz

UV Outputs

4 – 20 mA (1 kohm max load resistance; terminal block;
4 mA corresponds to 0% of irradiance and 20 mA corresponds to 100% irradiance level); 40 mA max.
Non-isolated Type 4 Class U device (ISA-50.1-1992)

UV-Alarm level preset

Multi-turn potentiometer
(0.1% resolution; 20- 100% of the user defined 100% Level)

Alarm indication

Blinking red LED and interrupting sounder (the sounder turns off after 30±5 sec of operation or if UV irradiance or Temperature level turns back to normal).

Separate LEDs for UV and Temperature alarm.

Temperature-Alarm level preset

Three-position switch:
1. +49C
2. +76.7C

3. OFF (-20oF hysteresis)

Dimensions

152 mm W x 89 mm H x 38 mm D
Understanding UV Monitoring for Air and Water UV Treatments