Contra Shear Technology
Description and working principle of Bin Activator
<![if !vml]><![endif]>
Flowability of certain powders is sometimes so poor that extraction from bins or silos with flow aids like fluidization pads, pneumatic hammers, hammer blasts or air cannons is impossible.

The Bin Activator by EXTRAC® is the ultimate flow aid and extracting device for such materials.

To fit the Bin Activator, the silo cone has to be shorter than usual, leaving a wide outlet section. A flange supplied together with the Bin Activator is welded to the silo outlet on site.

Special spring suspensions and a flanged polymer seal form a flexible connection between silo and Bin Activator.

One or two electric vibrators fitted to the unit generate vibration of the Bin Activator every time the feeding device beneath the silo is started for material extraction.

During operation the Bin Activator makes a gyratory movement which is transmitted to the material inside the silo. The result is smooth material flow through the Bin Activator outlet into the connected feeder.
Depending on the material handled Bin Activators are manufactured in carbon steel or different types of stainless steel.

According to the size, Bin Activators are equipped with one or two vibrators.
Advantages
Extremely low power requirement
Extra long life of suspensions and seal
Seventy percent less welds than in traditional bin activators
Reinforced seamless seal made of polymers SINT®MC, SINT®ER or food-grade SINT®AL
Seamless heavy duty activator cone
Case Studies : 澳大利亞 Corowa 水处理廠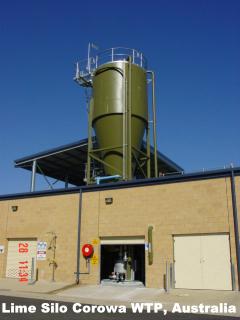 Microbatch Feeder 體績化自動投藥機
Interchangeable seals (option: FDA approved)





Blending tools: break up bridges and keep material free flowing.

Internal body made from non-sticking material. Robust and self-supporting flexible structure to ensure a perfect material flow.

Metering Tools

Square Hopper


| | |
| --- | --- |
| Vertical Spout | Quick and easy dismantling and maintenance. |

Pneumatic Tools


Round Hopper


MBF 042 - capacity a 1 RPM = 0.7 l/h

MBF 072 - capacity at 1 RPM = 5.7 l/h

MBF 114 - capacity at 1 RPM = 26.7 l/h

Fluidisation nozzle


Variable throughput rate possible.
Silo Accessories

Paddle Switch Level Detector

Designed to detect the presence of materials in silos, hoppers, etc, commonly used for materials having a density ranging from 0.5 to 2t/m3.

Two types are commonly used, one for the maximum level and one for the minimum level, screwed into with different threads (std. 1 1.2" gas) pipe unions, which are welded to the wall of the silo. They are supplied with voltages 24 - 48 - 110 and 220 V.
Dust collection is also another key element for Silo Application.

Our round body dust filter F-type is particularly suitable for dust collection in pneumatic conveying for either positive pressure or negative pressure systems, the F-range mounts highly efficient filtering elements made from tried and tested BIA-certified fabrics.
PNEUMATIC CONVEYING
Continuous dilute phase conveying
Silo Vent
Negative pressure conveying
Pressure (dense phase) conveying
Intermittent dilute phase conveying
ON - THE SPOT DUST CONTROL
Dust control of small cyclones
Manual bag openers
Concrete mixer dust control