Gereg Sewage and Water Equipment (Pty) Ltd. was established in 1988 to market sluice gates and other fluid control equipment.
Year 1990 we acquired from Valvemakers the manufacturing and marketing rights for the well-known FULTON range of sluice gates, which were first manufactured in 1965, and of which we are now the sole suppliers.

Strict Quality Assurance and Control in accordance with the requirements of ISO 9002 (SABS 0157 part II) is practiced during manufacture, and robustness of design and high Manufacturing standards are not compromised for the sake of cost reduction, resulting in a range of products of exceptional quality.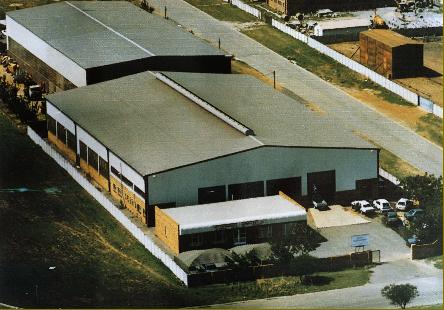 Gereg Factory in Labore, BRAKPAN, R.S.A.
4m wide x 2,6m high mild steel stop gate for 13m unseating head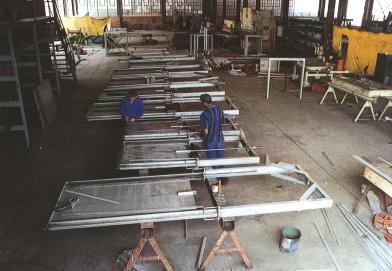 Final assembly of a batch of Channel Gates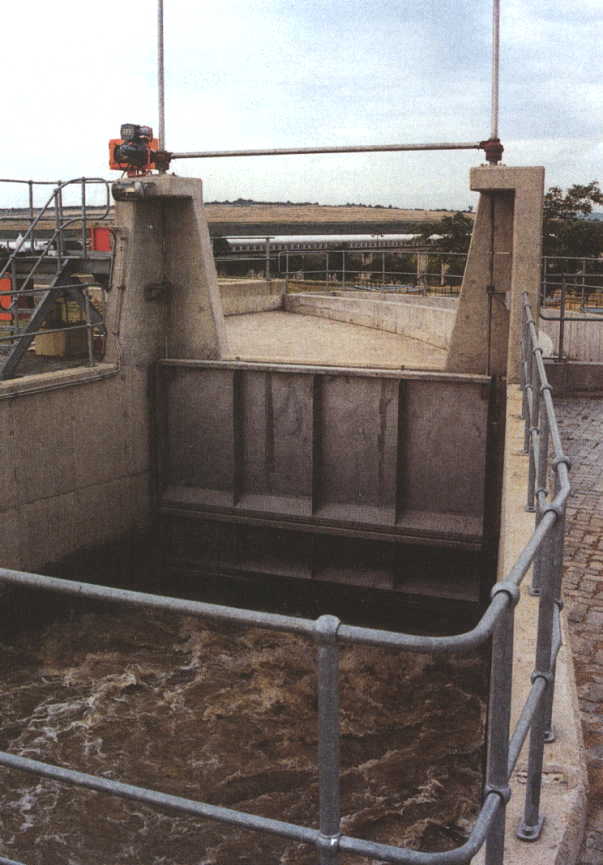 Case Studies : 4.2m wide x 3,5m high Channel Gate with electric actuator
(Johannesburg Northern Works, R.S.A.)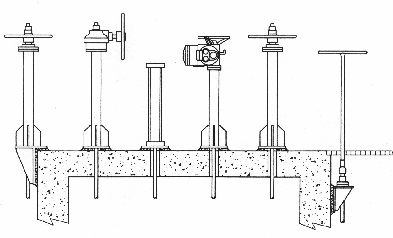 Various types of operating gear as shown above
Pedestal on wall support bracket


Bevel gearbox on pedestal


Hydraulic or pneumatic actuator


Electric actuator on pedestal


Platform mounted pedestal with handwheel


Tee-key on support bracket
Wall-mounted sluice gates (penstocks) are used to close off an opening in a wall, often between adjacent tanks or chambers, as well as outlets in dam walls.

The most common type of seals are Neoprene "music note" or "J" seals, and as it is not possible to utilize these seals on circular gates, all our sluice gates have square or rectangular openings.

Water pressure forces the bulb of the seal against the sealing surface on the frame, and the higher the pressure, the greater the force. To cater for off-seating pressures, the seals are reversed, so that the bulb is still forced against the frame, and in cases where both seating and off-seating pressure conditions occur, double seals, one in the normal, and one in reverse configuration, are used.

The invert seal is either of the "J" type, for standard invert, or is rectangular, for flush invert. The latter is recommended for use in sewage and other applications where the fluid contains grit, sludge, etc., as no "pocket" occurs across the invert.

We can also fit non-resilient (metal or thermoplastic) seals to wall-mounted sluice gates, if specially required, and to ensure effective sealing, adjustable wedges would be used.

We strongly recommend using rising spindles wherever possible, since the threaded section, as well as the thrust arrangement, are at the top, out of the fluid. Unless their use is essential, non-rising spindles should be avoided, so obviating possible clogging of the threads.

Various operating gear options for sluice gates are described under the section
"Operating Gear".

Tilting weirs

Tilting weirs are used for wide openings where the vertical travel required is not more than about 500 mm. The gate is hinged at the bottom, and is raised and lowered by means of a centrally mounted spindle which can be operated either manually, or by an actuator. As friction is very low, operating effort for tilting weirs is minimal.

Sealing plates can be fitted to the end walls if required, whilst a flat Neoprene seal across the width of the weir prevents leakage along the hinged section.

Scum baffles, located upstream of the weir, are optional.
Tilting Weir and Downward-Opening Weir

Twistlock Gate
Twistlock gates are used in the same applications as small wall-mounted sluice gates, where hand operation is acceptable. They can be locked in any partially open position by twisting the handle, which brings a cam into play, forcing the gate against its frame. This same action seals the gate in its closed position.

Twistlocks are suitable for balance heads up to 3m seating or 2m unseating, but it must be borne in mind that operating effort increases with size and pressure.

Usually of cast iron construction with bronze seating faces, they can also be cast in stainless steel, or fabricated from stainless, corrosion-resistant or mild steel.

Bore size available for the cast range from 100 to 300 mm.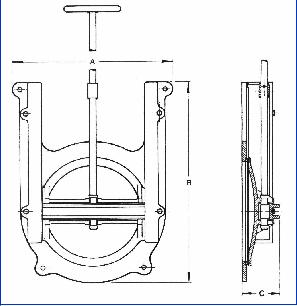 Other Products : Flap Valve / Telescopic Bellmouth Valve / Sludge Valve / Ground Water Pressure Relief Valve / Weir Plates