投灰設備及自動化控制糸統
Paddle Switch Level indicator阻旋式料位計
儲灰缸及其配件 - 料倉下置裝置
<![if !vml]>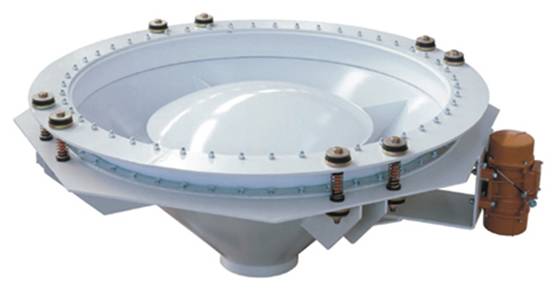 <![endif]>
Flowability of certain powders is sometimes so poor that extraction from bins or silos with flow aids like fluidization pads, pneumatic hammers, hammer blasts or air cannons is impossible.

The Bin Activator by EXTRAC® is the ultimate flow aid and extracting device for such materials.

To fit the Bin Activator, the silo cone has to be shorter than usual, leaving a wide outlet section. A flange supplied together with the Bin Activator is welded to the silo outlet on site.

Special spring suspensions and a flanged polymer seal form a flexible connection between silo and Bin Activator.

One or two electric vibrators fitted to the unit generate vibration of the Bin Activator every time the feeding device beneath the silo is started for material extraction.

During operation the Bin Activator makes a gyratory movement which is transmitted to the material inside the silo. The result is smooth material flow through the Bin Activator outlet into the connected feeder.
Depending on the material handled Bin Activators are manufactured in carbon steel or different types of stainless steel.

According to the size, Bin Activators are equipped with one or two vibrators.
Advantages
Extremely low power requirement
Extra long life of suspensions and seal
Seventy percent less welds than in traditional bin activators
Reinforced seamless seal made of polymers SINT®MC, SINT®ER or food-grade SINT®AL
Seamless heavy duty activator cone
Paddle Switch Level indicator阻旋式料位計